The Century Farm Award is given to a farm that has been in family operation for more than 100 years, and has outstanding potential to be successful business for another 100 years. The recipient is selected annually by the Connecticut Agricultural Information Council.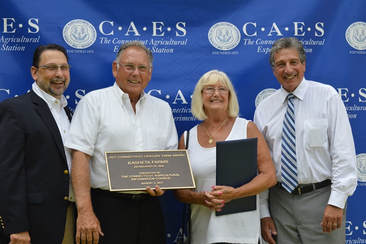 2017 Century Farm Award
Kasheta Farms was started in 1905 when Peter and Mary Kasheta purchased a parcel of land, a long, narrow strip that went from the Connecticut River to the Town Center in South Windsor. The main crop at that time was broadleaf tobacco, but it was a total family farm selling milk, cheese, butter, eggs and fresh grown fruits and vegetables.
Walter Kasheta then took over the farm along with his son, Edward W. Kasheta, Sr. In 1955, the tobacco industry took a real hit from the invention of a process to produce sheet tobacco for use as binders and wrappers of cigars. The federal government funded the Conn-Mass Tobacco Co-Op to purchase all the unsold tobacco in the CT/MA valley so farmers could live. Kasheta Farms started growing 150 acres of potatoes until that market fell into decline in the 1960's. Kasheta Farms also went into growing market vegetables (tomatoes, sweet corn, peppers, squash, etc.) all while still growing tobacco.
Ed Kasheta, Jr. then added growing grain corn marketed as a high moisture corn to K & L Feed Co. in North Franklin, CT for chicken feed until that mill closed. After purchasing a corn dryer, the grain can now be marketed elsewhere. Also, along the way, pumpkins, gourds and giant pumpkins were added to the list of products which were sold to local farm stands and retailers.
Through the years, Ed Sr.'s other sons also joined into the business. Donald T. Kasheta has been growing and delivering sod/turf and also oversees a commercial landscape maintenance service. David A. Kasheta runs the power equipment store sales, service and parts. All three brothers and Dad work together in all aspects to keep things running smoothly.
Kasheta Farms, Inc. is currently raising approximately 400 acres of grain corn, 100 acres of sod, 20 acres of broadleaf tobacco and 20 acres of pumpkins and gourds.


CENTURY FARM AWARD 2014

Holdridge Farm Nursery
Ledyard, Connecticut

The Century Farm Award is presented to a successful and innovative CT farm in continuous operation for 100 years or more. The recipient is selected by the CT Ag Information Council and the award is announced and presented at the CT Agricultural Experiment Station's Plant Science Day at Lockwood Farm in Hamden on the first Wednesday in August.

The 2014 winner is Holdridge Farm Nursery.

Holdridge Farm Nursery, located in Ledyard, was started in 1912 by Judge Samuel Holdridge as a vegetable farm and mail order nursery for strawberry plants. His son, Paul Holdridge Sr. added bare-root fruit trees and eventually a full line of nursery stock. A small store was built at the home farm at Geer Hill in 1941. Paul Holdridge Jr. and Alden Holdridge, the third generation on the farm, each added their own initiatives. Paul Jr. expanded the retail sector and added hard goods. Alden took over management of the growing operations and shifted from field-grown to container-grown nursery production.

Currently, Holdridge Farm Nursery is the largest garden center and wholesale nursery in Southeastern Connecticut. It is run by Shari Hewes, daughter of Paul Jr. and fourth-generation of the family on the farm. Holdridge Farm Nursery grows vegetable plants, annuals, perennials, nursery stock and contract nursery stock on 60 acres of which 16 acres are under irrigation for container production and nearly 2 acres of greenhouses. The retail store in Ledyard Center is a landmark known for locally grown quality nursery stock and plants.


---
CENTURY FARM AWARD 2013
Holmberg Orchards

Gales Ferry, Connecticut
Holmberg Orchards, located in Gales Ferry, was originally purchased in 1896 as a family farm by Adolph and Hulda Holmberg, who came to Connecticut from Sweden. Since that start, there have been four generations of Holmbergs and each has made his or her own mark on the farm. Initially, the farm produced high quality vegetable crops. Second-generation sons Harold and Henry planted apple, peach and pear trees starting in 1935 and also raised chickens as a source of income while the trees were maturing.
Harold's son Richard and his wife Diane expanded the orchard into pick-your-own and retail enterprises, adding a bakery and greenhouse tomato production. The fourth generation on the farm, Amy and Russell, each added their own new direction- Amy further expanded the farm market, adding locally produced gourmet specialty foods. Russell planted wine grapes and produces hard cider, fruit wines, and wine.
For over a century, comprising four generations, Holmberg Orchards has maintained and expanded upon a reputation for quality in fruits and vegetables and a commitment to excellence and dedication to their customers.
As Governor, I am pleased to join The Connecticut Agricultural Experiment Station and the Connecticut Agricultural Information Council in presenting this Century Farm Award to the Holmberg family, who is most deserving of this honor.
CENTURY FARM AWARD 2012
Futtner's Family Farm, LLC

East Hartford, Connecticut
Futtner's Family Farm, LLC, located in East Hartford, Connecticut, began in 1890. Now in its fourth generation, the farm is currently managed by James and Honora Futtner. Jim's great-grandparents came to the United States from Italy in 1880 on their honeymoon. Ten years later, they purchased their first parcel of land (13.88 acres). There were numerous land transactions thereafter, including property that is now part of I-84. Crops are grown on about 25 acres, including land in South Windsor, Connecticut.
There is a long history of greenhouse and vegetable production. A variety of crops, including sweet corn, melons, squash, lettuce, cabbage, potatoes, and carrots, have been sold in retail and wholesale markets. Today, the farm includes a popular Pick-Your-Own operation for tomatoes, peppers, and eggplant. A roadside stand operates 7 months of the year. High quality annuals, perennials, herbs, hanging baskets, rose bushes, and patio pots are also sold.
The Futtner family is dedicated to its customers, agricultural industry, and community interests. Jim serves on the South Windsor Agricultural Land Preservation Advisory Commission. Honora was a director for the first 3 years of the Connecticut Farmland Trust. A community supported agricultural program is active. Extra produce is donated to Foodshare in Hartford.
As Governor, I am pleased to join The Connecticut Agricultural Experiment Station and the Connecticut Agricultural Information Council in presenting this Century Farm Award to the Futtner family, who is most deserving of this honor.
CENTURY FARM AWARD 2011

Collins Powder Hill Farm

Enfield, Connecticut
Collins Powder Hill Farm, at 9 Powder Hill Road in Enfield, Connecticut, was established in 1868. During the late 1800's, strawberries, blueberries, vegetables, and tobacco were the main crops. There were a few animals present for meat and milk, mostly for family needs. In the early 1900's, an apple orchard became the new enterprise for the farm.
Like many Connecticut farms, diversification and adapting to changing times over the years are critical to the survival and sustainability of the farm. The Collins family developed a well-known chicken farm raising mostly breeding stock. Cows were then introduced and a dairy operation co-existed with egg and meat production.
Today, the principal family members (John and Ashley Collins and Jack and Mavis Collins) oversee a 180-acre farm with a dairy herd of about 170 cows, which includes an extensive breeding program of Holstein and Jersey stock, a composting business, and a creamery where premium ice cream is sold. Corn and alfalfa are important crops. The Collins family has about 158 acres in farmland preservation. Numerous family members and employees over several generations have contributed to the success of the farm.
As Governor, I am pleased to join with The Connecticut Agricultural Experiment Station and the Connecticut Agricultural Information Council in presenting this Century Farm Award to the Collins family, who are most deserving of this honor.