Lars DEMANDER, CLOVER NOOK FARM, BETHANY CT
NAMED Connecticut's Outstanding Young Farmer of 2018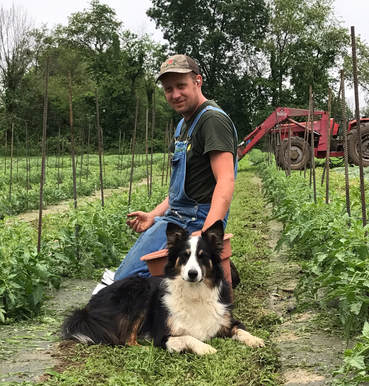 Lars Demander is the 8th generation of his family to farm at Clover Nook, which was celebrated as a Century Farm in 2000. Originally a dairy farm, Lars' parents transitioned the operation to fresh market vegetables to keep up with local demand and the evolving agricultural economy. A watershed moment for Lars came when the 2009 tomato crop was destroyed by late blight. It was then, he decided, that learning the science behind agriculture as well as the modern technologies and practices that are being researched and practiced to prevent such catastrophic losses was imperative.
Off he went to Cornell, earning a BS in Agricultural Science, and then to UConn, where he earned his MS in Agricultural and Resource Economics. The demanding curricula, he says, challenged his views on agriculture and awareness of the larger issues facing farms, from the consumers' perception of agriculture to the economics of the industry to sustainability.
When he returned to the farm, Lars pursued a Farm Reinvestment Grant to help expand the retail store, which more than doubled sales in its first year! Lars also spearheaded the efforts to add additional product lines, offering Clover Nook's own meat and value-added products for the first time. Stewardship of natural resources is a must, and Lars has incorporated cover cropping, composting, drip irrigation as just a few ways he practices sustainable farming.
Lars manages with an eye to sustainable business practices and community engagement with the farm. As a retail operation, he says, he has the opportunity to interact with the public and it is essential that he does to represent the agricultural industry, since so many farms are not open to the public and so many consumers make decisions based on what information is filtered their way, whether it's accurate or not. Over the past few years, Lars has been a guest speaker for the CT Master Gardener Program, garden clubs, Working Lands Alliance, NOFA, and his local elementary school. And just this past year, he hosted Clover Nook's first Open Farm Day, where he gave guided tours of the farm, taught his guests about growing crops and his growing practices, and gave them produce and activities to enjoy. About 500 people attended over the course of the day.


---
Arthur Spielman, IV, of Spielman Farm, LLC in Baltic, CT
​Named Connecticut's Outstanding Young Farmer of 2017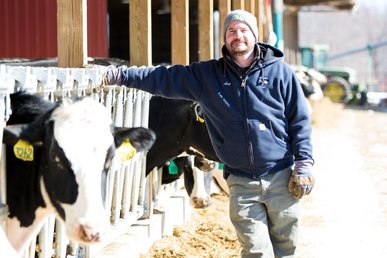 ​Arthur's first job, at the ripe old age of 8, was feeding calves on his family's multi-generation dairy farm. Each year saw added responsibilities and in 12th grade, a herd production issue prompted Art to seek out an independent study project for his agriscience class. He selected a mentor who would meet with him twice weekly and work through specific issues to improve herd health and production. This initiative led him to a position as the farm's herd manager, overseeing 300 cows and heifers.

When the herd was doing well, Arthur turned his focus toward the cropping program with the goal of making similar improvements. He trained a herd manager to take over those duties and assumed the new crop responsibilities which included management and logistics for their 3-chopper custom-cropping operation.

The next challenge was to take the entire farm forward and Arthur realized a more formal leadership structure was needed. He presented his vision and its benefits at a family business meeting, and he was appointed General Manager in 2009.

Arthur's goals have changed along with his growth: originally they were production- oriented but upon becoming General Manager, he understood the need to focus on financial success and to be a good businessman. To better manage the 1,400-acre, 620-cow operation, he utilizes an advisory team, facilitates meetings of the ownership and family to continue good communication, and actively works with the family to secure the long-term availability of their land base.

He also leads with a vision of environmental sustainability, practicing no-till corn planting and using an innovative radish-clover-rye-hairy vetch cover crop, and including wheat in his crop rotations, as well as utilizing NRCS expertise to build facilities that prevent runoff from silage as well as composting. All of these activities further the Spielman Farm mission of providing stewardship to the land for the next generation, and Arthur's leadership in these endeavors is why he has been selected as Connecticut's Outstanding Young Farmer of 2017.
---
Connecticut's Outstanding Young Farmer of 2016 is Bruce Gresczyk, Jr.

​"I am very lucky to be able to say I wake up and get to do something I love every day." This year's outstanding young farmer has fond memories of beginning at an early age, with his play farm in a sand pit where he'd harvest hay by ripping out grass and potting up weeds and discarded plants to sell to friends of the family.
A true entrepreneur at a young age, Bruce Gresczyk, Jr. went off to SUNY Cobleskill for a degree in Agricultural Business and came home with many ideas to make sure the farm not only survived, but thrived. By analyzing resources and records, Bruce was able to determine that the family was spreading themselves too thin by attending 22 farmers' markets each week. On his recommendations, they changed their business model by cutting out the low-performing markets and starting a CSA. In 2012, they began with 120 members. In 2015, Bruce proudly reports there are over 500 members in their CSA!
At Grescyzk Farms in New Hartford, Bruce Jr. and his family - which includes his wife Amy, their son Bruce III, his parents Bruce and Bernadette and his brother Henry - grow 40 acres of sweet corn and 70 acres of mixed vegetables, along with a half-acre of greenhouse crops.
Bruce credits working with Jude Boucher at UConn Extension for making him a better grower. By learning about Integrated Pest Management, Bruce was able to make gains in quality and yield while reducing the inputs needed to grow the crops. That is the true model of sustainability, a concept that is near and dear to Bruce's heart. It's so important that he's started working with Leanne Pundt on biological controls in the greenhouses, and has been able to significantly reduce the reliance on chemicals for pest control.
Bruce is also active in the community, serving on the Connecticut Greenhouse Grower's Board of Directors and supporting the Connecticut Food Bank, and hosting farm tours for groups wishing to learn about farming and sustainable practices.
Bruce's passion for what he does, and his continual work at sustainably improving the farm, the farmer himself, and the community in which he resides is why he is Connecticut's Outstanding Young Farmer of 2016.
---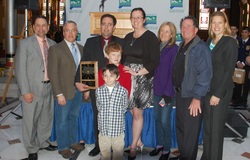 Joseph DeFrancesco III, of Farmer Joe's Gardens in Northford, is Named Connecticut's
Outstanding Young Farmer of 2015
---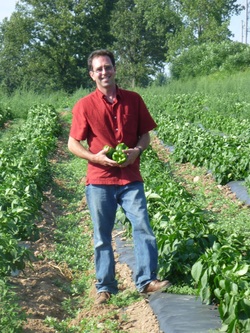 Connecticut's agriculture industry grows great crops, including the next generation of farmers. Joseph DeFrancesco III, of Farmer Joe's Gardens in Northford, was chosen as Connecticut's Outstanding Young Farmer of 2015.

The Outstanding Young Farmer Award is given annually by the Connecticut Agricultural Information Council (CAIC), a coalition of state farming groups, as part of the festivities surrounding Connecticut
Agriculture Day at the state capitol. Candidates are selected based on their achievements in their agricultural enterprises, involvement in the agriculture industry and their community, and their work on soil and water conservation projects.

As a fourth generation farmer, Joe grows on the same parcel of land that his great grandfather worked many years ago. Joe resides on the farm with his wife, Ida, and two children, Joseph and William. Together Joe and Ida started a farm stand on their property and seek to educate employees and consumers on growing practices, nutrition, policy, and conservation.

Joe has made many sustainable improvements to his farm over the years that twice earned him recognition by the NRCS as Co-Operator of the Year. One of these projects was the installation of bio-fuel furnaces used to heat their greenhouses and home. At the state level, Joe has advocated for the greenhouse industry's decreased usage of fossil fuels.

Joe has demonstrated dedication toward helping the next generation of farmers gain real world experiences that will aid them in their future professional endeavors. In 2011, Joe championed a forklift certification program with Lyman Hall Vocational High School where students earn OSHA licenses to operate forklifts and gain working knowledge and safety techniques that prepares them for potential employment at nurseries, farms, and supply companies.

Since 2010, Joe and Ida have sold Roses for Autism from the Pinchbeck Rose Farm. With the relationship going deeper than just flower deliveries, they are supporters of Pinchbeck's efforts to foster meaningful employment and personal success for individuals with autism. Joe's dedication to other local farms has developed a cooperative relationship that the community agrees is vital.

Joe's stewardship mindset is evident when he describes what he does for a living. "I have a passion for caring for seeds as they mature into food to feed my community," he says. Joe continually strives to improve his own farm and growing practices, and to be an educated voice for the future of Connecticut agriculture. Joe and Ida are active in the New England Farmers Union and the Connecticut Greenhouse Growers Association.

The purpose of the Outstanding Young Farmer Program is to bring about a greater interest in the farmer to foster better urban-rural relations through the understanding of the farmers' endeavors, to develop a further appreciation for their contributions and achievements, and to
inform the agribusiness community of the growing urban awareness of the farmers' importance and impact on America's economy.

The state winner will be invited to compete in the National Outstanding Young Farmers Program, which is sponsored by John Deere.
The 2014 Connecticut winner Stacia Monahan, of Stone Gardens Farm in Shelton was a national semi-finalist. The prior three winners, Jamie Jones of Jones Family Farm in Shelton, Russell Holmberg of Holmberg Orchards in Gales Ferry, and Matt Peckham of Elm Farm in Woodstock, were all national Top 10 finalists.

---
Stacia Monahan of Stone Gardens Farm in Shelton is Connecticut's 2114 Outstanding Young Farmer!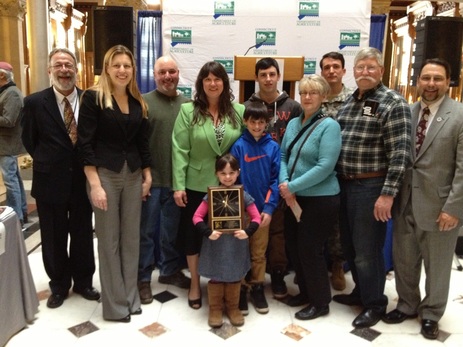 Inspired by helping out her grandparents on their small berry and vegetable farm as a child, Stacia has operated a mixed vegetable operation for 16 years. She resides on the farm with her husband, Fred, and three children, Tommy, Billy, and Sophie. She started out by planting just 2 acres of sweet corn and vegetables which has evolved today into 50 acres grown annually along with the raising of poultry, pork, and beef.

Stone Gardens Farm is part of a non-profit Community Supported Market initiative called CitySeed in New Haven where local residents have the ability to access fresh produce from farmers. This gave the Monahan's the knowledge to organize their own CSA program which has grown from 85 members in 2007 to over 1,000 members to date.

Stacia employs sustainable growing practices on the farm as she spreads a compost mixture to improve the tilth of the soil and add much needed organic matter to the fields every spring. Her fields are set up to direct run-off water into ponds that are used for irrigation. Stone Gardens Farm practices integrated pest management (IPM) as well.

Stacia has capitalized upon the local foods movement as she aims to educate consumers of her products and mentor new and beginning farmers, and she doesn't show signs of slowing down. She states, "Once I feel comfortable with a new addition it's time for the next big thing!"

---
Philip Jamison "Jamie" Jones of Jones Family Farms in Shelton was chosen as Connecticut's Outstanding Young Farmer of 2013.

The Outstanding Young Farmer Award is given annually by the Connecticut Agricultural Information Council (CAIC), a coalition of state farming groups, as part of the festivities surrounding Connecticut Agriculture Day at the state capitol. Candidates are selected based on their achievements in their agricultural enterprises, involvement in the agriculture industry and their community, and their work on soil and water conservation projects.

Jamie is a 1998 graduate of Cornell University's College of Agriculture and Life Sciences. Today, he oversees all of the agricultural operations on the farm, maintaining over 400 acres of pick-your-own strawberries, blueberries, pumpkins, and Christmas trees, as well as 50 acres of hay. In 2004, Jamie added over 5 acres of vineyards when he established the Jones Winery. His wines have won numerous awards, including Best Connecticut Wine 2012 from Connecticut Magazine.

Jamie's sustainable growing practices, integrated pest management techniques, and collaboration with the Connecticut Agricultural Experiment Station on agricultural research show his commitment to the family philosophy 'be good to the land and the land will be good to you."

Jamie and his wife Cristiana represent the sixth generation of the Jones family to run the 150-year-old farm, along with his parents, Terry and Jean Jones. Here, Jamie and Cristiana also raise the 7th generation, Jackson, Samuel, and Juliet. Jamie serves as CT Farm Bureau's First Vice President, as the President of the CT Vineyard and Winery Association and on the Board of the CT Farm Wine Development Council. Most recently Jamie was appointed by Governor Dannel Malloy to serve on the Governor's Council for Agricultural Development in 2011.




Russell Holmberg awarded 2012 Outstanding Young Farmer!

This year's Outstanding Young Farmer, like many, was born and raised on his family's farm. Though he admits to helping during the summer starting around the time he was 12, Russ Holmberg was probably out in the orchard long before that. It became a full-time job during high school and college, where he could easily put in the hours after class and on weekends that most folks work during the week!

In 2004, Russ received a Bachelor's Degree (Magna Cum Laude) in Plant Science from the University of Connecticut, and returned to Holmberg Orchards in Gales Ferry. As the fourth generation working on the farm, he spent several years as what he calls "boots on the ground" working through and learning the intricacies of various production techniques from planting to spraying to watering. Using what he learned at school, he built some greenhouses and started growing small fruits and ornamental plants to complement the established orchard.

Russ also picked up an interest in viticulture while he was at UConn, and pitched the idea to his parents, figuring he could make grape wine and also hard cider. They were intrigued, and wanted to see Russ push a pencil on the idea and present them with a business plan before making the initial investment.

In 2005, one of their buyers backed out, and they were left with several acres of Russet apples. If you're not familiar with this variety, it's a traditional New England apple, brown-skinned and good for baking, but the high acidity and high tannin levels aren't a favorite of a hand fruit. They are, however, the most desirable qualities in cider apples. Looking at this supply, Dad Rich told Russ, "If you're serious about the hard cider project, now's the time."

So Russ got to work, updated his business plan, and applied for a Farm Viability Grant. The Department of Agriculture awarded a grant to Holmberg Orchards in 2006 which established the farm winery. Today they produce about 1500 gallons of wine and 1500-2000 gallons of hard ciders.

You've heard the old adage that "farmers were the first environmentalists." Because the land and natural resources of a farm are so important to its sustainability and well-being, Russ takes particular care in learning the latest management practices that balance environmental stewardship with quality crop production and pest management. Right after he returned from school, the Holmbergs put up a deer fence with assistance from the USDA. Once a week for the next three years, Russ met with UConn Extension Specialists to develop Integrated Pest Management (IPM) strategies for Holmberg Orchards. It was this relationship with Jude Boucher that allowed the farm to expand into vegetable production and make better use of fallow land. It also led Russ to additional training at UConn under a Thames River Watershed Grant Program administered by the then-DEP. By the time he'd completed his formal training, Russ had made use of cover cropping for reduced soil erosion, improved crop rotation for soil health and pest management, reduced pesticide use through improved spray coverage and timing, and improved the use of scouting and IPM.

Over time, this has grown to about 50 acres in production. There are 2 acres in planted vineyards (with more to be added in coming years). Apples make up about 35 acres, and the remaining 13 acres are in peaches, pears, nectarines, blueberries, raspberries, blackberries, tomatoes and various other crops. The Farm Market is freshly stocked year-round with fruits and vegetables, homemade baked good and tempting specialty foods. And if you want the whole experience, many varieties are available to pick your own fruit through the summer and fall months.

Russ credits his parents with his love for learning and sharing knowledge. Both Rich and Diane have teaching degrees, and the importance of education rubbed off on Russ. It's this background that fostered his attitude of "if there's info out there, I'm going to share it with my peers," and has led to his involvement in the CT Pomological Society and the CT Winery and Vineyard Association. Twice now, he's been asked to speak at the CT Vegetable Growers Association meeting, as well as the New England Fruit and Vegetable Conference, Harvest New England, the Southern New England Tomato Growers' Conference, and the CT Tree Protective Association's Annual Meeting.

Russ has also taken this quest for knowledge worldwide after becoming involved in the International Fruit Tree Association. A lot of what he learned at the conference are best practices in Germany, and are ones that he's adopted at home. The fenced-in farms that remove the less productive trees and replant with highly productive varieties planted in high density showed how to move the operation along faster. Then, he's made the case for replanting the medium-density blocks that were "high tech" not that long ago but by comparison are now the lowest-yielding part of the farm.

It's this progressive attitude, coupled with a thirst for agricultural knowledge, a passion for sharing, and a desire to move the industry forward, that make Russell Holmberg of Holmberg Orchards Connecticut's Outstanding Young Farmer of 2012.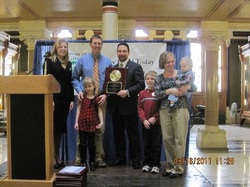 Matthew Peckham: 2011 Outstanding Young Farmer!


Connecticut farms come in all shapes and sizes, and this year's Outstanding Young Farmer is a true proponent of the old adage "bigger is not always better." Matt Peckham of Elm Farm in Woodstock milks a herd of around 140 Holsteins with some Jerseys mixed in. He owns 140 acres in partnership and rents another 150. In fact, he often jokes that he's on his way to having the smallest dairy farm in the county, as everyone else grows around him.

But as we know, location is often a deciding factor in any farm size decisions. The availability of land, especially crop land is harder to come by, as more and more people realize that Connecticut – and its quiet corner – are a great place to live. So, as a progressive dairyman with not much room to expand his operation physically, Matt set out to change the things he could. That meant concentrating on efficiency. And it doesn't always come in the form we typically expect.

For instance, Matt is making use of an NRCS grant to install a manure pit. Many observers said he'd never fit manure storage on his farm, but thinking outside the box and working with his team of engineers, Matt has been able to design storage with over a year of capacity, compared to the 7 months that is required. It involves pumping manure underground for 450 feet, and only slight modifications are necessary even in a winter as cold as the one we've just had.

Matt chose to undertake this project for several reasons. Environmental stewardship is important to him, as is efficiency on the farm. The other big reasons– and there are 4 of them – are his children: Caleb, who's 9, Grace, who's 7, Graham, who's 2, and Tucker, who's just 1. Matt and his wife Christine work as hard as they do so they can preserve and protect the farm for their next generation.

Matt got his start in dairying while he was in high school and college, when he worked with his grandfather, Robert Peckham on the family's dairy. When his grandfather passed away, Matt was the one to pick up the reins of the farm and brought the leadership to the operation it needed. His young ambition and love for the cows have driven him to assess the farm business from a completely different angle. Realizing he can't be everywhere all at once, Matt spends a good deal of time on the phone and tracking input costs.

A close friend and mentor once told Matt that he could make a lot more money for his farm sitting behind his desk, and Matt chuckles to tell the story today. "I didn't believe it at first," Matt said, but he was definitely right. Matt took courses and learned management planning, budgeting, and how to utilize DHI's herd management records program. Integrating what he's learned, Matt will tell you the results definitely reflect the new management style and practices. He also credits his attentive employees who are true team players with attention to detail for being able to execute the plans he's made.

Though his day-to-day work is more than a full-time job, Matt enjoys working with his community. Each spring, he hosts the Old Iron Tractor Club at his farm, where antique tractor enthusiasts bring their favorite piece of equipment to the farm and plow around 20 acres for the farm. It also brings out the community, as the audience grows every year. Matt admits it's fun for him, too, being an antique tractor buff himself.

One thing you might not expect from this soft-spoken young farmer is that he enjoys the political work he's done with Farm Bureau. He was active on the 'Save Dairy' campaign and has testified several times before the Environment Committee, educating our legislators as to the realities of life on a dairy farm, the practical and appropriate production techniques, and how agriculturists were the first environmentalists.

And if that's not enough to convince you how important education is to Matt, take a ride out to Matt's farm. He's built a new calf barn that has a visitor-friendly layout, and hosts many school groups. Matt spends time giving tours and educating his neighbors about what he does. He educates himself on the latest technology, learning about no-till cropping practices and injecting manure into the soil for fertilizing, instead of the typical spreading. He's matched these practices with the light soil at the farm, finding the system and practices that work best for him as a manager, for his cropping program, and his land and environment. Matt's care and concern for these precious natural resources will no doubt deliver a successful farm operation to the 7th generation as he's planned.

Please join me in congratulating this year's Outstanding Young Farmer: Matthew R. Peckham.
---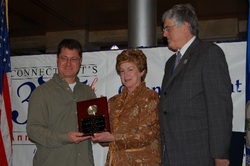 Joe Geremia: Connecticut's Outstanding Young Farmer of 2010

Six and a half acres sounds like a modest farm operation, but consider the crop. When it's greenhouse products, and those 6 ½ acres are under glass, that's big business. And when it's run by a man with a plan like Wallingford's own Joe Geremia, the results are like nothing else.

Though he got his start in the business working with his father, who had ½ an acre in greenhouse production when Joe took over the operation, the vegetable business is also in his blood. Joe's grandfather came to America just after the turn of the century and raised vegetables and his 11 children on the original 16 acres of the Geremia farm.

Fresh out of high school, Joe jumped into the wholesale greenhouse business full force. Over the next 20 years, he would travel and learn whenever he could – from the latest greenhouse and agricultural and distribution technology in the Netherlands to vegetable production research and learning systems in Ontario—and brought the best pieces back to his own operation. It's not just because it's a better way of doing business, Joe says, but because this technology is available for farmers around the world—so we can all enjoy fresh, safe, locally grown food produced with a smaller carbon footprint. This is especially important to Joe and his wife Dawn as they raise their young family in an agricultural tradition: daughter Madeline is 5, sons Luke and Liam are 3 and 9 months.

With the abundance America enjoys, it's easy to take for granted the availability of some of the most precious resources, such as water. Joe's travels led him to use the standard flooding benches and flooding floors common in Europe, as they waste no water. Believing that what is good for one agricultural operation is good for us all, Joe set out to make these systems even better—and did. He applied upgraded mechanical systems to develop the rapid-flood floor. In minimizing the time between when the first plant in the batch gets water and the last, Joe has enabled the producer using this technology to better control the readiness of the crop. And when managing the perishable nature of the crop is a key challenge in the industry, an additional 10 days of product life is an eternity.

Not satisfied yet, Joe built a research greenhouse at the Agricultural Experiment Station's Lockwood Farm in Hamden in partnership with the Station and the University of Connecticut. Together, scientists from UConn and the Station are investigating methods of eliminating wastewater and reducing fertilizer in runoff. The application of this technology is a win-win: more efficient ways to irrigate are more cost-effective for the grower and better for the environment.

Not all of the technology Joe employs is brand new, but is finding new applications in today's changing world. For instance, the investment he made in biomass boilers as an alternative to heating his greenhouses with oil not only gives him business choices, but allows the greenhouse to utilize the wood waste created by arborists and landscapers that would otherwise be left to decay.

The Outstanding Young Farmer program was developed to bring about a greater interest in agriculture, to foster better urban-rural relations through the understanding of agriculture's challenges, to develop an appreciation of agriculturists' contributions and achievements, and to inform the agribusiness community of the growing urban awareness of farmers' importance and impact on the American economy.

Connecticut agriculture is sometimes hidden from the spotlight, Joe mentions. That's why he is always ready to show visitors around: from Rep. Rosa DeLauro and Rep. Mary Fritz to the town selectmen. He hopes that this education will one day soon help him achieve his vision for an agricultural learning center. This facility would incorporate greenhouse technology from around the world to increase profitability for plant production. By funding these ideas, instead of individual operations, he believes we can increase the self-sustaining success of our farms—one idea at a time.

There is no better ambassador for this mission than Joe Geremia, Connecticut's Outstanding Young Farmer of 2010.

---